K.Walker Collective, a lifestyle clothing brand founded by local designer and brand strategist Ken Walker, will open its flagship store in Detroit on Saturday, November 26, just in time for Small Business Saturday. A ribbon cutting will take place at the store, located in Midtown at 4161 Cass Ave., beginning at 10 a.m. that day.
Created by Walker in 2018, the K. Walker Collective offers streetwear-inspired, gender-neutral staples with elevated touches, including graphic tees, velor sweatshirts and polos, chenille patch hoodies, satin jackets and puffer coats, and accessories.
K. Walker Collective is the first private label to have its own flagship store in the Midtown neighborhood.
"My goal is for K. Walker Collective to fully position itself as a pioneering lifestyle brand, not just a clothing brand," the Detroit native says in a press release. "I want my store to be a beacon of hope and a creative inspiration for young people. Community is at the core and our store will show the world that Detroit is an undeniably forward-thinking city."
As guests enter the 1,700-square-foot store, they are met with an open-concept, minimalist design, which is what Walker envisioned.
"I like spaces where I can go in and just think about what I want to buy," he shared during Time Detroit's exclusive tour of space on November 23. "I'm not a fan of crowded spaces where I can't maneuver. But that's the mental health aspect for me, because clothes should give you a sense of peace and empower you."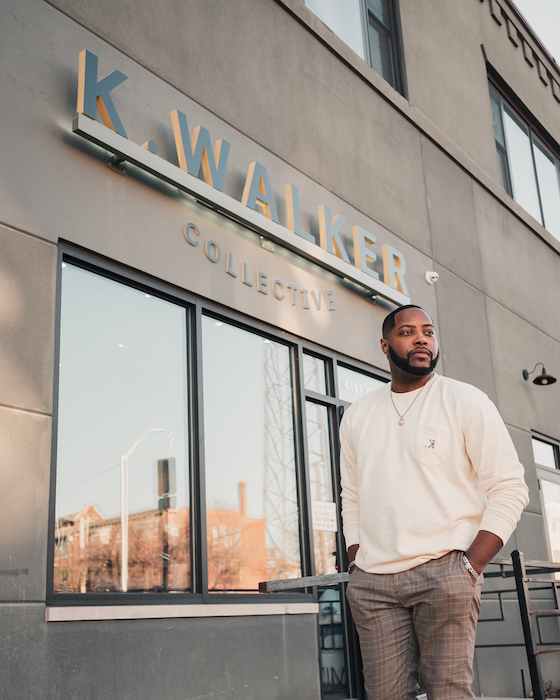 Mounted racks and shelves line the exposed brick walls and display clothing and accessories from the K. Walker Collective's permanent and seasonal collections. A coat rack near the cash wrap acts as a preview for customers to see the garments that are coming to the store soon.
Walker also set up an area at the front of the store to display the custom jersey he designed earlier this year for Motor City Cruise, the G League affiliate of the Detroit Pistons.
A rotating collection of vinyl curated by black artists is on display in the back of the sales floor, where Walker intends to open his mini-vinyl store, called Ken's Vinyl Shop, next year. "He wanted to select black music from all genres and from all eras," he says. Staying true to his word, buyers can currently find records by the Four Tops (fun fact: Four Tops founding member Levi Stubbs is Walker's great-uncle), Marvin Gaye, Michael Jackson, Whitney Houston, Lauryn Hill, Kendrick Lamar and SZA.
The store also has a fully equipped kitchenette located in a separate room where community events will take place. Walker is also working to open a small coffee shop in that area, and is even thinking about creating his own line of K. Walker Collective coffee.
"So many powerful conversations I've had have been over coffee," Walker says. "And I think I can create that as an extension of the brand."
The opening of her Cass Avenue store is a full-circle moment for Walker, as it sits just two blocks from the Detroit School of the Arts, which is where she attended high school and dreamed of starting her own clothing brand. someday.
"It's surreal because in 2009 when I graduated from the Detroit School of the Arts and went to Michigan State University [University], none of this was down here," Walker says of the current businesses that line Cass Avenue. "It was not an area [where] I saw people buying. I didn't see wine shops, I didn't see ice cream parlors, I didn't see yoga studios, I didn't see dog parks. And I remember the first day I walked in here: it was March 1, it was my 32nd birthday; That's when my lease started – I knew I had a responsibility. It is not about opening a store; people are walking into a dream come true. So for me, that's the genesis of it."
Walker credits his network of industry professionals for helping make the flagship store a reality. In October 2021, Walker recalls that he was stressed to find a new location for his brand when the original location he had in mind fell through. That month, he had a conversation with Laura Horwath, founder of Ferne Boutique in Detroit, who suggested opening in the Midtown or New Center neighborhoods.
From there, Horwath connected Walker with Susan Mosey, executive director of economic development nonprofit Midtown Detroit, Inc., who introduced Walker to the Cass Avenue location with the goal of bringing more retail to the neighborhood. She fell in love with the space the moment she saw it.
"It's an area where I see a good mix of diversity," Walker says, referring to the neighborhood's diverse shops and its proximity to Wayne State University. "I love the different people I see in the area."
Overall, 2022 has been an uplifting year for the K. Walker Collective. In April, Governor Gretchen Whitmer visited Walker's store (which was still in operation at the time) during her tour of black-owned businesses in downtown Detroit. She walked away with one of the brand's embossed KWC jerseys.
In August, the K. Walker Collective received a $30,000 Motor City Match grant during the program's 20th round, which further helped Walker open his shop. On a personal level, Walker became an adjunct professor this fall in the College of Creative Studies, teaching fashion brand management in the university's fashion design program. He is also preparing to relaunch his organization, Detroit Mental Wealth, in May 2023 for Mental Health Month.
What's next for the K. Walker Collective? Look out for a resort 2023 collection and those vinyl and coffee shops inside the flagship store. Walker will also present his brand at Pitti Uomo, a prestigious men's fashion fair in Italy, next June.
But always an entrepreneur, Walker always thinks big; he hopes to one day open K. Walker Collective stores in Chicago, New York and London, as well as a creative manufacturing studio for students to learn about garment production, from design sketches to final product.
"It's the opening of what was once a dream, which is now a reality," Walker says of his flagship store. "Let people be immersed in the brand experience that I have always wanted to create."
The K. Walker Collective flagship store will be open from noon to 6 p.m. Tuesday through Thursday, noon to 8 p.m. Friday and Saturday, and by appointment on Sunday. Visit kwalker.co for more information.